ATM
It all started with ATMs, and NYCE has been providing trusted ATM services for more than 30 years.
NYCE participants deploy hundreds of thousands of ATMs throughout the U.S. and its territories where your customers live, work, shop, and vacation.
As a NYCE participant, your cardholders gain ATM access to the Armed Forces Financial Network (AFFN®), and the CULIANCE network. AFFN has been providing the U.S. military community with ATM and point-of-sale (POS) services for nearly 30 years. AFFN ATMs are located at or near U.S. military bases worldwide. CULIANCE provides hundreds of thousands of ATMs at credit unions throughout the U.S. Additionally, AFFN, CULIANCE and proprietary UnionPay and KFTC cardholders can perform cash withdrawals and balance inquiries at your ATMs.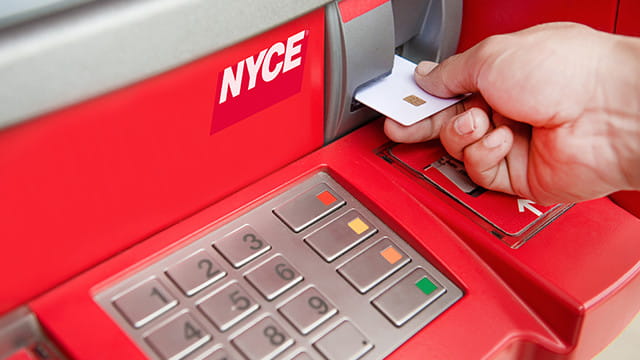 Benefits of NYCE ATM Services
Your customers will have total ATM convenience with access to more than 90% of U.S. ATMs where they shop, live, work and travel. They will also appreciate 24/7 access to our ATM Locator services.
As a card issuer or an ATM deployer, NYCE provides you with the tools you need for achieving optimal approval rates, increasing cardholder satisfaction, and meeting your ATM program financial targets.
Traditional cash withdrawal, balance inquiry, transfer and deposit services are available to all financial institutions. Visit Shared Deposits for more information on how you can extend your deposit-taking services beyond your branch offices.
Complimentary NYCE ATM and door/window decals are available in a variety of sizes.
Join the SUM Surcharge-Free Program to offer your cardholders surcharge-free cash access throughout the U.S.
Need access to another EFT network? We've got you covered. Visit Gateway Services to learn how easily NYCE can connect you to other networks.
Of course, you can also use your ATMs to dispense tickets, stamps, prepaid cards, lottery proceeds and to enable your cardholders to use their smartphones rather than a debit card to access ATMs.